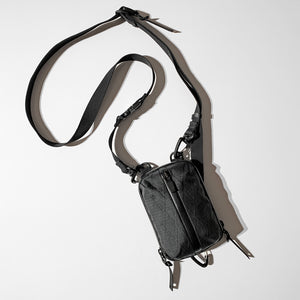 CODEOFBELL
ANNEX 360 - Multi-Purpose Wallet Sling
Sale price Price $89.00 Regular price
Reimagining a wallet that no longer belongs in your pocket. This was the idea when we first decided to create our own wallet, extending on our pocket extension concept.
When you think of a wallet, typically an image of a small, flat case that are usually pocket-sized and foldable may come to mind.  Used primarily to carry paper currency, coins, credit cards, IDs, and other forms of card-sized items. And going slim was all the craze, but ultimately limited in capacity. 
Our patent-pending single-zipper 3 pocket design is at the heart of the ANNEX 360 wallet sling. All the features of a wallet, but with much more space and versatility in the same compact form.
A wallet that is more functional and adaptable to better work for your daily / outdoor / travel needs. Half wallet, half amazing.
----------
Dimension (inches / mm): 3.3 x 5.1 x 1.8 / 85 x 130 x 45
Weight: 6 oz / 170 g 
Key Features:
- Total 5 zippered pockets;
   a) Patent-pending single zipper 3 pocket design (main compartment)
   b) Front dome-shaped zipper pocket for extra storage space (ie keys, earphone etc)
   c) Rear concealed zipper pocket
- Rotating swivel hook to attach to belt loop or other bags
- Belt latch webbing
- RFID protected (main compartment  + rear pocket)
- Magnetic release key chain strap
- Anti-theft zipper pull design
- Removable clamp to attach to ~25mm webbing or for strap management
- Waterproof fabric + weather-resistant zippers
For international customers, please read our FAQ page for Shipping and Return Policies before your purchase.