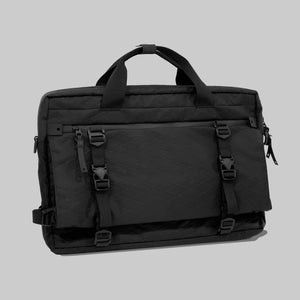 CODEOFBELL
APEX LINER PRO - 2+1 Way Shoulder Bag
Sale price Price $219.00 Regular price $219.00
As we now live in the new normal, many aspects of our daily life has changed around the world. One in particular is where we work; not just from the office, but from home or anywhere in between. 
So we set out to design a daily carry which doubles as your work bag, allowing you to literally work 'through' your bag. 
The laptop compartment opens 110° to transform into a personal work station. Also the side walls provide have pockets to place your work essentials, such as a portable battery, cables, mouse, USB drive etc for easy access and organization when working. They also provide privacy when in public places.
Introducing our newest APEX LINER PRO.  A more compact, sleek design without the extra load and size of a backpack. Taking our compact carry to the next level.
APEX LINER PRO is compatible with the BACKPACK HARNESS KIT (sold separately) to convert the bag into a backpack.
Also available in a smaller sized APEX LINER MAX (fits up to 13").
----------
Dimension (inches / mm): 15.8 x 10.4 x 3.5 / 400 x 265 x 90 (flat)
Dimension (inches / mm): 15.8 x 10.4 x 9.8 / 400 x 265 x 250 (front compartment expanded)
Volume (litre): 7 (flat) / 12 (fully expanded)
Weight: 2.4 lbs / 1.1 kg
Key Features:
- X-Pac® waterproof fabric
- YKK water repellent zippers
- Can be worn cross-body style, single shoulder, hand carry
- Can also be worn as a backpack w/ purchase of B.H.K. (sold separately)
- Three independent compartments (expandable front compartment)
- Fits up to MacBook Pro 16"
- Concealed front pocket x1 (between front and main compartment)
- Rear zippered pocket x1
- Multiple internal pockets for easy organization
- Magnetic-release key hook x1
- Padded rear panel
- Luggage handle pass-through strap
For international customers, please read our FAQ page for Shipping and Return Policies before your purchase.