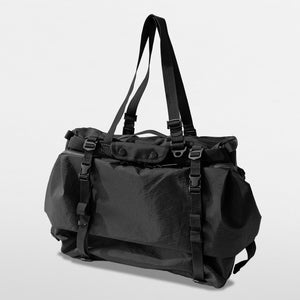 CODEOFBELL
X-TOTE - 3-Way Messenger Tote
Sale price Price $259.00 Regular price
Our signature "X" series look, but with more capacity, versatility and style. 
For those that prefer an alternative to a backpack. Our newest X-TOTE (pronounced cross-tote) is a tote and a messenger bag in one sleek package. It also provides ample storage for everything you need to take with you and innovative features to allow ease of use from the office to the airport and everything in between.
The ultimate all-in-one bag with an added bonus to attach our ANNEX series (LINER, CARRIER and/or CASE) when needing a compact, quick access daily carry option to bring with you. Or as an added storage capacity. ANNEX CARRIER/CASE can attach to either side of the X-TOTE, while the ANNEX LINER can attach to the front compression straps to create your ideal setup.
----------
Dimension (inches / mm): 15.5 x 12 x 5 / 400 x 300 x 130 (when folded)
Dimension (inches / mm): 15.5 x 12 x 10 / 400 x 300 x 250 (when expanded)
Volume (L): 19 (folded) / 35 (expanded)
Key Exterior Features:
- 3-way carry options (hand, single-shoulder, cross-body)
- Length adjustable handle straps (shortened for hand carry or longer for single-shoulder carry mode)
- Stowable 50mm shoulder strap for messenger (cross-body) mode 
- Removable handle grip (can be attached on front webbing as a grab point)
- RFID protected zippered pocket
- Side slip pocket w/ snap button
- Expandable water bottle pocket
- Rear sleeve pocket w/ magnetic snap button
- Padded back-panel luggage pass-through w/ hidden zippered pocket
- Detachable compression straps (x2)
- D-ring x1
- Multi-purpose attach points (can attach our ANNEX series)
- Includes x8 annex clips to attach the ANNEX series.
Key Interior Features:
[ Front Compartment ]
- Expandable compartment
- Zippered pockets (x2)
- Elastic sleeve pocket
- Key hook strap x1
[ Main Compartment ]
- Dual tablet and laptop compartments (x2) w/ soft lining (fits most 15" laptops) 
- Zippered pockets (x2)
- Slip pockets (x3)
- Large sleeve pocket (x1)
- Large pockets w/ draw cords (x2)
- Pen slots (x2)

For international customers, please read our FAQ page for Shipping and Return Policies before your purchase.