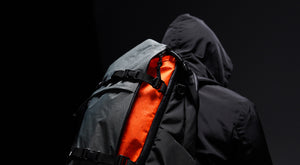 DESIGN CONCEPT
Inspired to reimagine a new range of highly functional and efficient bags and accessories to blur the line of technical gear and street fashion, for the everyday urban lifestyle to the weekend getaways.
Our label is a reflection of our passion to challenge and fuse the intersection of function and form through design and acute attention to details.
READ MORE...
# C O D E O F B E L L
We are an independent design team based in Los Angeles.
A small, unorthodox group of creatives and dreamers.
We design products that add comfort, efficiency and joy into the daily pace of our hectic lifestyles. Driven by our love and interest for technical soft goods and accessories. Our goal is to design modern gears with acute attention to details, that are efficient and adaptable anywhere from the grocery store to the edges of the globe.
With over three decades of combined experience in product design and development, we are finally putting our expertise together to launch our new Carrywear™ line to fill the niche in the market segment for those looking for that perfect go-to everyday, anywhere gear.